CASHBACK 10% PROMO FOR 2020!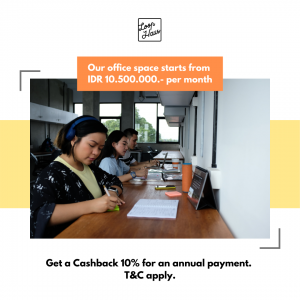 Hello!
We are heading towards to 2020, and we are excited to share the news with you about LoopHaus's office spaces availability.
The office spaces will be available starting in the mid January of 2020. The price starts from IDR 10.500.000.- per month and you can get a cashback 10% for an annual payment (T&C apply).
We are located around Cilandak & TB Simatupang area in the South of Jakarta. So if you, your friends or family might be looking for an office space in the near time, LoopHaus could be one of your choices.
Let us know if you would like to schedule a tour on Whatsapp (0813-8018-1677) or send an Instagram DM away @loophaus.id.
Thank you and looking forward to your first visit! Have a nice day!